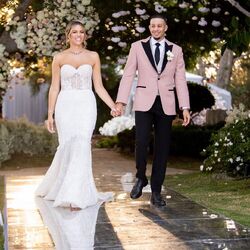 Seth and Callie Curry are one of the most popular couples in the NBA.
Before a couple
[
]
Seth was a member of the Sacramento Kings
Callie is the daughter of Doc Rivers
Relationship
[
]
Seth and Callie have a very similar upbringing, as they were both born into athletic families. Their fathers, Dell Curry and Doc Rivers, each had productive NBA careers, while their brothers, Stephen Curry and Jeremiah, Austin, and Spencer Rivers, also became basketball players, with Stephen and Austin becoming professional. Seth and Austin were teammates at Duke as well. Callie played volleyball in college just like Seth's mother Sonya and sister Sydel. Since they both grew up around the NBA, Seth and Callie met when they were young. "The Currys are a great family," Doc Rivers said. "I've known Dell and Sonya for 100 years. It's very natural. Two good families, so it's pretty cool. Dell and I don't really talk about it. We played in a golf tournament together. We've always kind of been tight. It's been a really natural union." 
Seth and Callie are known for their private relationship, although they have appeared to become more relaxed recently. Eventually Seth and Callie would develop feelings and evolved over time into a relationship. Austin was a little heistant about it at first. "When you hear your sister is dating an NBA player, you're like, 'Oh s—,' ". "NBA players travel a lot. There is a reputation. You don't want your sister to get hurt. But when I heard it was Seth, I was relieved because he is one of the guys that act the right way."
Before proposing to Callie, Seth asked Doc if he could have his daughter's hand in marriage and Doc said yes "I couldn't be happier,". "He's such a gentleman. As a father, that is all you want. He just called me and asked like normal people. I always tell people, 'We're all normal people at the end of the day.' I told him, 'Great, and absolutely.' But I think he knew I'd say that. …"As my mom and dad would say, 'They've just been raised right.' They [the Currys] are just terrific kids, and that is a credit to Sonya and Dell." 
Seth, who said he was "a little nervous" about his conversation with Doc, asked Callie to marry him while at a friends and family dinner in his hometown of Charlotte, North Carolina, on Feb. 14 during NBA All-Star Weekend. She said yes. Callie described the process of the proposal. "We were having dinner and Seth was being unusual. He offered coffee which I never seen him drink. I don't remember everything but do remember him saying I love you and being a good mom. Then I was so emotional and crying when he said will you marry me. He was like wait will you marry me and I said yes yes stand up."  
Marriage
[
]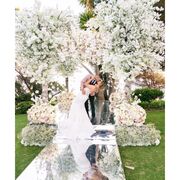 They were married on September 14, 2019, at a beautiful ceremony in Malibu, California. On the big day, the bride chose a form-fitting lace gown by Galia Lahav. Her bouquet was designed by Flowers by Cina, and featured roses and eucalyptus. The bride dressed her bridesmaids in matching pink dresses—they carried floral arrangements that complemented hers. The groom wore a pale blush jacket and his men stepped out in J. Hilburn menswear.
Stephen was Seth's best man. Jeremiah, Austin, Spencer, Sydel, and Ayesha served as members of the wedding party, and Riley, Ryan and Carter stole the show as adorable flower girls. There large bridal brought all the fun at the reception with great moments that can be found by following their wedding hashtag, #Currydowntheaisle.
Children
[
]
Seth and Callie have one child.
See Also
[
]