Russell and Nina Westbrook are one of the most popular couples of the NBA.
Before a couple
Edit
Russell was a basketball player at UCLA
Nina was a basketball player at UCLA
Relationship
Edit
Both Westbrook and Earl were born and are natives of the Los Angeles metropolitan area. Both of them were top basketball prospects in high school and they chose to attend UCLA. Westbrook was a sophomore and Earl was a freshmen when they met and started dating. In аn interview, Russell ѕаid оf Nina, "… she's a smart girl. She's in school right now, trуing tо gеt hеr master's in psychology. Shе knоwѕ whаt ѕhе wаntѕ tо dо in life, whiсh iѕ great. That's easy fоr mе tо cope with." And whеn asked аbоut a wedding hе ѕаid with a smile, "We ѕhаll see. Wе ѕhаll see."After six years of dating, Westbrook proposed to Earl on September 3, 2014 with a massive rock. TMZ reports the $700,000 ring is a "six-piece elongated cushion cut" diamond masterpiece made by renowned jeweler-to-the-stars Jason of Beverly Hills.
Marriage
Edit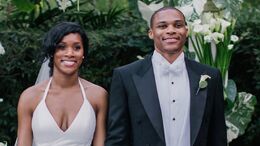 Westbrook and Earl got married on August 29, 2015, in an outdoor ceremony at the famous Beverly Hills Hotel in a star-studded ceremony. The couple were married in the presence of friends and family including Westbrook's current and former teammates – Kevin Durant, Kevin Love, Serge Ibaka, Dorrell Wright and James Harden.
Everything at the ceremony was designed by household names. One could not have expected less since Nina's engagement ring is said to have cost a whopping $700,000. The bride wore two gorgeous dresses, the first designed by designer Vera Wang and the second by Monique Lhuillier. The groom wore an exquisite tuxedo. The wedding cakes were made by Joanie and Leigh's Cakes of Bel Air, California and floral arrangements were done by Mark's Garden in Sherman Oaks, California. Mindy Weiss, a top celebrity event planner handled the planning of the entire ceremony.
Hollywood's finest graced the occasion. The couples first dance was a live performance by Lauryn Hill and D'Angelo's "Nothing Even Matters." and they gracefully left the ceremony dancing to the tune of Queen Bey's live performance.
Other R&B stars present included Keri Helson and Grammy award winner Miguel who also performed to the surprise of the couple and guests. Guests were however restricted to use their phones and cameras during the ceremony. A bit of a disappointment to them but on the whole with such a turn up at the event it was fun filled. The ceremony was fully covered by the famous Peoples Magazine.
Children
Edit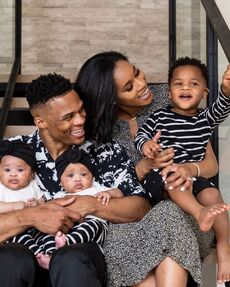 Russell and Nina have three children together
Noah Russell Westbrook: born in 2017
Skye Westbrook: born in 2018
Jordyn Westbrook: born in 2018
See Also
Edit