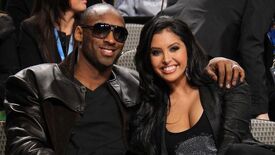 Kobe Bryant and Vanessa Bryant are one of the most popular couple of the NBA.
Before a couple
Edit
Kobe Bryant was a member of the Lakers
Vanessa Laine was a model
Relationship
Edit
In November 1999, 21-year-old Bryant met 17-year-old Vanessa Laine while she was working as a background dancer on the Tha Eastsidaz music video "G'd Up". Bryant was in the building working on his debut musical album, which was never released. They struck up a conversation and exchanged numbers. The two began dating and became engaged just six months later in May 2000, while Laine was still a senior at Marina High School in Huntington Beach, California. To avoid media scrutiny, she finished high school through independent study. According to Vanessa's cousin Laila Laine, there was no prenuptial agreement. Vanessa said Bryant "loved her too much for one".
They married on April 18, 2001, at St. Edward Roman Catholic Church in Dana Point, California. Neither Bryant's parents, his two sisters, longtime advisor and agent Arn Tellem, nor Bryant's Laker teammates attended. Bryant's parents were opposed to the marriage for a number of reasons. Reportedly Bryant's parents had problems with him marrying so young, especially to a woman who was not African-American. This disagreement resulted in an estrangement period of over two years, which ended when Bryant had his first daughter.
Ages at Wedding:
Kobe, 22; Vanessa, 18.
Miscellaneous:
Kobe and Vanessa reportedly do not have a prenuptial agreement.
Shortly after admitting to being unfaithful, Kobe bought Vanessa a $4 million eight-carat, purple diamond ring.
Kobe and Vanessa reportedly often wear matching leather bracelets as a sign of their love for one another.
Although Vanessa and Kobe maintained that their marriage is strong, an article in Newsweek suggested that Kobe and Vanessa were growing apart in early 2003. Kobe apparently had contacted a divorce attorney in March 2003.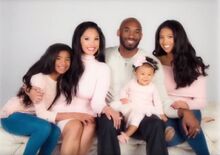 Kobe and Vanessa have three daughters.
Sexual Assault Charges and Trial
Edit
After being charged with sexual assault on July 18, 2003, Kobe Bryant admitted that he was unfaithful. In May 2003, Bryant plead innocent to charges of felony sexual assault. Trial News Update: 9/1/04: The rape case against Kobe Bryant was dismissed with prejudice meaning the felony sexual assault charge cannot be refiled. Prosecutors said they dropped the charge because the alleged victim "could no longer participate." The federal civil lawsuit is still pending. 8/10/04: Kobe Bryant was notified that a federal civil lawsuit was filed against him on August 10, 2004. The suit asks for a jury trial, compensatory damages of at least $75,000, and punitive damages to be determined. Attorneys for the 20-year old woman stated that she is owed money for the pain, "public scorn, hatred and ridicule" she allegedly suffered since the alleged rape in the summer of 2003. The civil lawsuit also accuses Bryant of misconduct with other women. Some legal experts believe that the filing could cripple the criminal case against Kobe Bryant and could lead people too judge that the motives for the case are purely financial.
8/4/04: Statements from the prosecution team makes it appear that their case against Kobe Bryant may be falling apart. Additionally, the accuser may refuse to testify anal sex with the superstar. Her attorney mentioned the possibility of a civil suit against Kobe Bryant. Kobe Bryant's sex assault trial was set for August 27, 2004. He is charged with allegedly assaulting a Colorado woman on June 30, 2004. She was 19 years old at the time of the alleged attack in a luxury hotel, the Lodge & Spa at Cordillera. The trial and juror selection process is expected to take three to four weeks. Conviction would have meant four years to life in prison or 20 years to life on probation, and a fine of up to $750,000 for Bryant.
See Also
Edit