Dwyane Wade and Gabrielle Union are the most popular nba couple.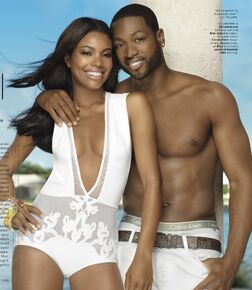 Before a couple 
[
]
Dwyane was a member of the Miami Heat
Gabby was an actress
Relationship

[

]
Before their relationship, they were both previously married. Wade was married to Siohvaughn Funches from 2002 and 2007, and they two children Zaire and Zaya. Union also married to former NFL Chris Howard from 2001 and 2005. Wade and Union met in a pretty conventional way in 2007: while co-hosting a Super Bowl party. They made their first official public appearance as a couple on a red carpet in 2010, although rumors had been swirling for years that they were dating during the time Wade's divorce proceedings were going on with his ex-wife (and the mother of his sons), Siohvaughn Funches. Wade and Union briefly broke up in 2013 which Union attributes to "distance and scheduling," and during their break, Wade ended up conceiving a son with a woman named Aja Metoyer.
Marriage
[
]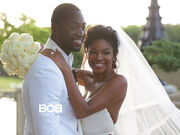 The couple got marriedon August 30, 2014, at the Chateau Artisan in Miami, Florida. Union stated in an interview prior to the marriage that she and Wade would be signing a prenuptial agreement to protect their individual assets. Union and Wade spent their honeymoon in the Maldives and Tanzania.
Beach babes! The couple, who is nine years apart in age, are both easy on the eyes (pictured here in Malibu, Calif). "I think he's so delicious," Union told Glamour in 2014. "Watching him get out of the shower never gets old. Never." Gabrielle Union and Dwyane Wade celebrated their one-year wedding anniversary on August 30, and recently gifted fans with a video offering a glimpse of the 2014 nuptials at Chateau Artisan castle in Miami.
The 21-minute video of the ceremony features a slew of celebrity cameos — including Lebron James, Kevin Hart, actress Essence Atkins, former NBA player Alonzo Mourning, and BET executive Stephen Hill. Cleverly titled "The Wade Union," the video — which begins with fun opening credits with Natalie Cole's "Everlasting Love" in the background — shows John Legend serenading guests with his 2014 single "You & I," before Wade declares his vows to the "Being Mary Jane" star.
In the moment, it was a no-call, and the play was recorded as a block. But many disagreed, especially Wade's wife, Gabrielle Union. She has many thoughts that she shared on Twitter. Union additionally said that she believes referees should be fined, echoing what Reggie Jackson said after the Pistons lost on Sunday.
Children
[
]
Dwyane and Gabrielle have one child together
Kaavia James Union Wade: born in 2018
See Also
[
]
Gallery:Dwyane and Gabrielle Union