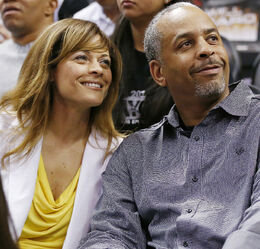 Dell Curry and Sonya Curry are the parents of Stephen and Seth Curry.
Before a couple
Dell was a basketball player at Virginia Tech
Sonya was a volleyball player at Virginia Tech
Relationship
Both Curry and Adams were born and are natives of Virginia. Both of them were All-Americans in their respective sports during high school and they chose to attend Virginia Tech. Curry was a junior and Adams was a freshman when, as the story goes, he first asked her out after one of his games. Adams had attracted Curry's attentions for the majority of her freshman year and once he asked her out on that first date, the path to romance was all but built. They were married in 1988 and moved to Charlotte, North Carolina after Dell was selected by the Charlotte Hornets in the NBA expansion draft that year. All three children attended the Charlotte Christian School.
On August 23, 2021, TMZ reported that the couple has filed for divorced.
Children
Dell and Sonya have three children.
Grandchildren
Dell and Sonya have four grandchildren.
See Also