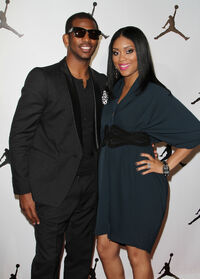 Chris and Jada Paul  are one of the most popular couples of the NBA.
Before a couple
[
]
Chris was a basketball player at Wake Forest University
Jada was a student at Wake Forest University
Relationship
[
]
Both Paul and Crawley were born and are natives of Winston-Salem, North Carolina. Both of them attended high schools in North Carolina and they chose to attend Wake Forest University. On December 28, 2003, Crawley attended a basketball game at Wake Forest where she met Paul. He took notice of Crawley in that moment. So, he asked their mutual friend to introduce him to her. They hit it off and began dating. Paul proposed on Spetember 26, 2010 at Wake Forest gymnasium.
Marriage
[
]
Paul and Crawley were married in an extravagant ceremony at Ballantyne Hotel and Lodge in Charlotte, North Carolina. A glowing Jada receives loving support from her bridal party who adjusts the bride's strapless Vera Wang gown gifted to her by the famed wedding dress designer. Both Big Chris and Lil' Chris strutted their stuff in custom made Ralph Lauren Black Label tuxedos. The venue is also home to a world-famous golf course.
The tent where her nuptials took place were filled with over 10,000 carefully selected white buds including roses, orchids and hydrangea. This six-tier wedding cake contains the couple's custom crest which appeared throughout their invitation suite.
Guests were also treated to adorable individual mini cakes. All pastry was created by Charm City Cakes of Baltimore and the hit show Ace of Cakes. Wedding planner David Tutera used 50,000 flowers and 600 candles to transform the space! The guests including Ludacris, Dwayne Wade, Kevin Hart, Speedy Claxton and Carmelo Anthony made the trip to Charlotte from all over the country to support their friend on his wedding day. 
In an interview with Essence, which had exclusives to the wedding, Chris discussed one of the reasons he was still with college sweetheart Jada: "Jada was with me when I was broke." The strong testament to Chris Paul's wife, Jada Paul was reciprocated with how battles with in law's helped them forge their relationship. "Sometimes they gave me the side-eye like, Is she here for the right reasons? But Chris stood up for me. It made us stronger. "
Children
[
]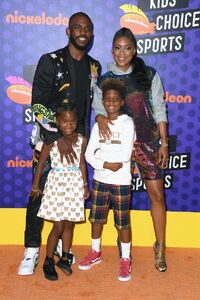 Chris and Jada have two children.
See Also
[
]