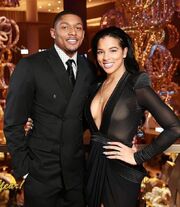 Bradley Beal and Kamiah Adams are one of the most popular couples in the NBA.
Before a couple
Edit
Bradley is a NBA player
Kamiah was a cast member on Love and Hip Hop
Relationship
Edit
The couple met in 2015 in Los Angeles at a club through mutual friend John Wall. What first attracted Beal to Adams was how bold she was. Beal admited she approached him with her phone number." She's really bold, but I'm really shy," he said. Adams states when she made eye contact with Beal it was love at first sight. " the minutes we locked eye we fell in love I didn't know his name his age " Adams admits. Eventually the two developed their love at first sight over time into a relationship. For their first date, Kamiah flew to Washington D.C. to attend his games, and had dinner at the hotel she was staying at. They then hung out the whole night. Adams said, "No, he's an upgrade cause he respects me and treats me right. After three months of dating Adams moved in with Beal and two brothers. The couple are expecting their second child together.
Children
Edit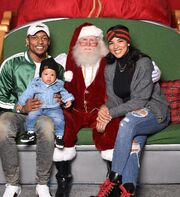 Bradley and Kamiah have one child together
Bradley Emmanuel Beal II: born in 2018
See Also
Edit